VITEK® 2 and VITEK® MS PRIME
The VITEK MS PRIME and VITEK 2 systems leverage bioMérieux's 60 years of microbiology expertise and
seamless ID/AST integration

. Together, they help laboratories deliver

fast and accurate results

to clinicians that support informed treatment decisions to

improve patient outcomes

.
Group Buy Discounts:

10% off contracted pricing for VITEK 2 equipment
10% off bioMerieux advanced integration engine when included with instrument purchase
10% off Lab Optimization Project when purchased with VITEK 2 and/or VITEK MS PRIME
$7,500 off VITEK MS PRIME systems when purchased in conjunction with either VITEK 2 equipment. Requires purchase of advanced integration engine
CLARION VITEK 2 advanced antibiogram only (25% off the CLARION COMPLETE Module) – requires 3-year SaaS Agreement

Premier Contract: PP-LA-543
Contract Category: Automated Microbial Identification and Susceptibility Analyzers
Group Buy Effective Dates: July 1 – September 30, 2023
All shipments must be received by member by November 30, 2023
Lock in your discounts on stockd®. Orders are confirmed and fulfilled direct or through an authorized distributor.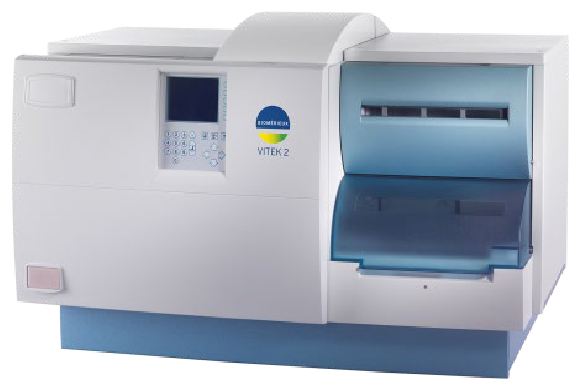 VITEK 2
The VITEK 2 system has everything healthcare laboratories need for fast, accurate microbial identification, and antibiotic susceptibility testing.
The innovative VITEK 2 microbial identification system includes an expanded identification database, the most automated platform available, rapid results, improved confidence, with minimal training time.
The VITEK 2 system next-generation platform provides greater automation while increasing safety and eliminating repetitive manual operations. The rapid response time means results can be provided more quickly than with manual microbial identification techniques.
SAME DAY AST RESULTS
Allows Faster Targeted Therapy
Support Antimicrobial Stewardship Efforts
ADVANCED EXPERT SYSTEM
Allows auto-validation of high confidence results
Alerts lab and clinicians to unusual susceptibility patterns
Makes release of results fast and simple
AUTOMATED PANEL INNOCULATION, SEALING AND LOADING
Reduces technologist hands on time
Increased safety
SEAMLESS INTEGRATION WITH VITEK® MS PRIME
Optimized workflow with VITEK FLEXPREP™
Automatic pairing of ID/AST results
Reduces manual entry time and errors