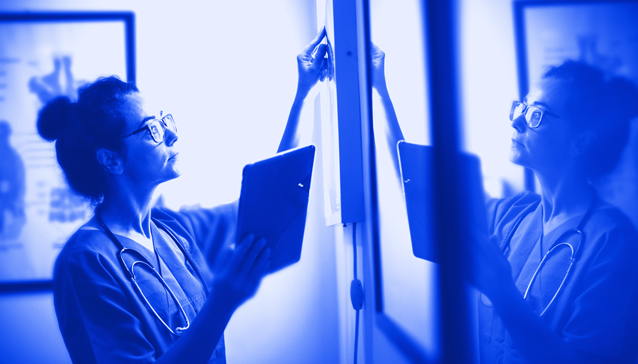 In times like these, it is helpful to recall that there always have been times like these. – Paul Harvey
The COVID-19 crisis has been compared with the Spanish Flu outbreak of 1918, but much more-recent incidents have occurred that similarly overburdened the provider ecosystem. [1] These include the H1N1 and SARS outbreaks and, most recently, the 2017-2018 influenza outbreak in which medical centers were forced to setup off-premise triage tents. [2] Providers' response to the COVID-19 pandemic, however, can be particularly instructional as they take steps to prepare for the next one.
The Longer the Chain, the Weaker it Gets – Healthcare Supply Chain
For the past few decades, healthcare suppliers have tapped into global supply chains to decrease per-unit cost for the end customer. While financially sound, this often created longer lead times and larger minimum-order quantity requirements, as well as a dependence on overseas manufacturers. The COVID-19 crisis has strained global supply chains, and even long supply chains inside the country have broken down in some cases due to lockdown restrictions that impact shipment and distribution. Any supply chain is only as good as its weakest link. An agile business model and value chain adds resilience to any business. [4]
All or Nothing – Provider Operations Impact
Providers can be classified as either those who are impacted by high volumes of COVID-19 patients or those who shored-up their staffing and infrastructure waiting for a surge that has not yet hit their doorstep. Both groups have seen reduced numbers of patients opting for elective procedures, often resulting in negative impacts to their balance sheets. A pivot in accordance with new care pathways is the need of the hour. [3]
A Dual System of Care for COVID-19 and Non-COVID-19 Patients
In an attempt to safeguard caregivers and patients from infection, providers have tried to maintain a dual system of care for COVID-19 and non-COVID-19 patients. The most-common strategy has been segmenting treatment areas and resources. As COVID-19 patients require specialized systems of care,[5] ingenious methods have been developed to stretch resources, like converting CPAP machines (used for treating apnea) into ventilators. [6] Deploying a Digital Disease surveillance system can also be valuable, as it may prove to be the missing link in a demand sensing ecosystem. [7]
The New Kid on the Block – Telehealth Providers
Fear of COVID-19 exposure, combined with stay-at-home requirements, have driven consumers to seek care from alternate telehealth sources that depend less upon human interactions. Even for COVID-19 patients, telehealth systems have allowed care providers to communicate and monitor patients without entering the room, saving on personal protective equipment (PPE) and reducing the risk of infection. Telehealth is not a new form of care delivery. However, it suffered from poor adoption as consumers were unaware of how it worked or were apprehensive about coverage, considering its historical links to aging populations and Medicare and Medicaid plans. With reimbursements receiving a go-ahead from payers, telehealth visits have seen exponential growth, from 40 visits per week to 4,000+ visits per week. [8] Meanwhile, telehealth providers are scrambling to add more doctors into their systems. While this crisis could be the tipping point for virtual care, concerns remain about how to reduce fraud on these platforms. [9]
Digital After the Surge: What Providers Can Do
Just because a threat is huge does not mean the response must be proportional. In environments with high uncertainty, launching a series of reactive steps without careful consideration is risky. Providers would be better off taking a more incremental approach over time, designing what will be the healthcare sector's new normal by consulting trusted health IT leaders for scenario planning and strategy.
If providers did not have a digital strategy before, now is the time to implement one. [10] Some providers will move faster in this new normal, while the rest may see a big drop in business. Providers have the advantage of an existing network of good doctors whose reputations precede them, and should assess their capabilities to transform their clinical operating model.
With the pandemic straining hospital resources, artificial intelligence (AI) systems that have been trained via machine learning (ML) have already been deployed to offer clinical decision support.[11] Future deployments for triaging will create workflow improvements, giving clinicians more time to work closely with their patients. [12]
Conversational AI and bots will see significant adoption in the short term. [13] It would be hard to imagine a provider portal and the hospital interactive voice response (IVR) without a conversational AI bot in the future. And this future is no longer far.
Propel Patient Experience to the Next Level
As the pandemic evolves, patients have become more thankful of their caregivers, and the patient experience in general has been enhanced despite reduced access to care. [14] The data underscores that patient experience need not be defined by a luxurious hospital stay. Instead, patients want to feel safe and stay connected with caregivers, and they want to be equipped with data that helps them understand how their care impacts them. Virtual care and special zones inside healthcare facilities for non-COVID-19 patients are the first steps toward this goal.
Ambulatory Surgery Centers (ASCs), which have proven to be good options in these circumstances, may see some regulatory barriers come down.[15] This, coupled with a potential uptick in demand during a crisis, could lead to providers considering this option to increase their bed capacity, along with offering telehealth and remote monitoring for rehab and post-acute care.
Physician Experience – To the Screens and Back Again
Many physicians have had a love/hate relationship with digital technology. We have seen the first wave of digitization, in which physicians spent a good amount of time focused on computer screens rather than the patient in the room. [16] The second digital wave could take the physicians away from their screens and closer to their patients (figuratively), as applied automation and AI will ensure that the growing avalanche of data is more manageable with health IT, and that providers can concentrate on improving care, efficiency and interoperability.[17]
The providers who will thrive during and after the COVID-19 crisis will be those who can navigate strategic inflection points.[18] To do this, it is imperative that providers assess their operational capabilities and realign their portfolios to buttress their strengths and eschew their weak functions. As Seneca once said, "He who is everywhere is nowhere."
To know more – reach health.sbu@wipro.com
Pankaj Kumar
Vice President & Global Head – Healthcare Provider & Services at Wipro Technologies
Pankaj has 24+ years of experience in Sales, Client relationship Management, Operations/Delivery, Business Consulting & Program Management. He has extensively worked in Financial services, Life Sciences, Healthcare and Insurance sectors selling & delivering best of breed products/solutions. Structuring and managing large complex multi-year outsourcing relationships, contract negotiation, financial modeling, new business development, C-level relationship management, New Engagement Models.
References:
[1] 
https://news.vcu.edu/article/Comparing_COVID19_with_Spanish_flu_and_other_viral_outbreaks
[2] 
https://time.com/5107984/hospitals-handling-burden-flu-patients/
[3] 
https://www.wipro.com/engineeringNXT/the-covid-19-pause-and-the-technologies-that-could-take-us-beyond-it/
[4] 
https://www.wipro.com/infrastructure/rethinking-supply-chain-strategies-and-business-models-in-the-wake-of-covid-19/
[5] 
https://www.who.int/emergencies/diseases/novel-coronavirus-2019/technical-guidance/patient-management
[6] 
https://www.medgadget.com/2020/04/university-converts-cpap-machines-into-ventilators.html
[7] 
https://www.wipro.com/analytics/data-discovery-platform/
[8] 
https://www.komu.com/news/from-40-to-4-000-telehealth-visits-skyrocket-and-could-be-here-to-stay
[9] 
https://www.wipro.com/holmes/holmes-helps-insurer-detect-98–of-fraud-claims-/
[10] 
https://wiprodigital.com/what-we-do/covid-19-response-resources/
[11] 
https://spectrum.ieee.org/the-human-os/artificial-intelligence/medical-ai/ai-can-help-hospitals-triage-covid19-patients
[12] 
https://www.technologyreview.com/2020/04/23/1000410/ai-triage-covid-19-patients-health-care/
[13] 
https://avaamo.ai/chatbots/
[14] 
https://patientengagementhit.com/news/patient-experience-good-despite-low-care-access-during-covid-19
[15] 
https://www.orthospinenews.com/2020/04/22/covid-19-the-pathway-back-to-elective-surgery/
[16] 
https://www.longwoods.com/content/26178/healthcare-quarterly/physician-experience-at-the-leading-edge-of-the-digital-healthcare-transformation
[17] 
https://www.healthcareitnews.com/news/ehrs-are-still-mess-physicians-change-coming
[18] 
https://services.designit.com/project/business-as-unusual